Head and Shoulders
---
Head And Shoulders Pattern.
The H&S is a bearish pattern, meaning on confirmation of pattern we expect a breakdown. The pattern is called so for obvious reasons as it looks like a silhouette of a man's left shoulder, head and the right shoulder.
We want strong volumes to push up to form the left shoulder, pullback on lesser volumes. The head is formed with large volumes again, however comparative to the shoulder volume is meak, but on comparison. we now form the neckline and finally the right shoulder where we notice the volume is much lighter.
What are we looking for?
A break of the neckline and we are short. This breakdown confirms the pattern. Volume should be i on the higher side when the breakdown occurs. Stops are at the high of the right shoulder
Target
Minimum target is the distance from the head to the neckline.
On breakdown expect a little bounce, however if price returns and closes to the neckline this pattern has failed and it's a Failed H&S pattern.
Inverse H&S is the opposite of the above, Bullish pattern and trade-wise is the reverse.
---
Some examples
Garmin 2005 Chart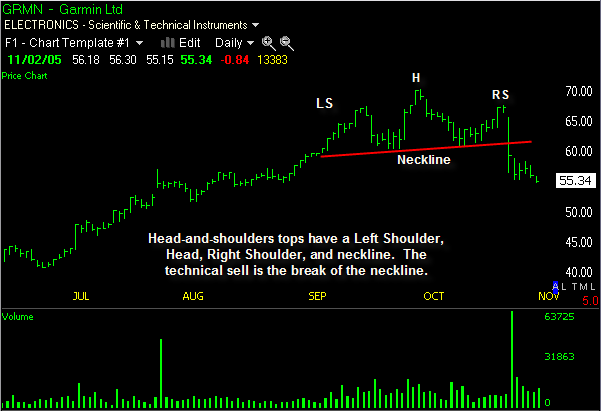 Reference
---